Artfully Crafted Sustainable Spaces
Inspirational view steps from our Studio
Urban Green Studio is a landscape architecture and urban design firm, established in 2008 by Dayna L. Fendrick, based in Naples and Everglades City. Our studio location in Everglades City provides a daily source of inspiration from the surrounding natural environment and appreciation for the built environment of an authentic small town and walkable community.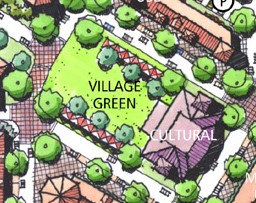 Ms. Fendrick has more than 35 years of experience as a landscape architect and land planner for projects throughout South Florida, Texas, the Bahamas and Costa Rica. As a former senior associate with a large multi-disciplinary firm, Ms. Fendrick has developed the skill of interacting effectively with other design disciplines to address complex projects. We regularly team with other professionals - including engineers, architects and transportation planners – to create projects that are functional, safe and enjoyable for the public. We are accustomed to navigating the permitting process with local governments to successfully accomplish the client's vision for the project. 
Being a collaborative person by nature, Ms. Fendrick enjoys engaging in a design dialogue with other professionals and clients to fully explore creative solutions to meet project challenges. Through exposure to a wide variety of assignments, Ms. Fendrick has honed her creative design and place-making skills to address projects that range in scale from the intricate design of a private courtyard, to an inviting and lively streetscape, to the feasibility study and master planning of a new community.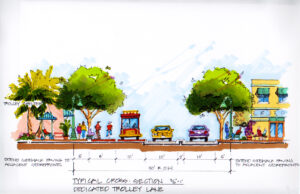 Urban Green Studio handles a broad range of public and private sector projects, including:
At Urban Green Studio, we advocate the New Urbanism/Smart Growth principles of town and community planning. These serve as models of development for the future and as patterns to create more livable, self-sustained communities.
We support elements such as compact development, walkable and pedestrian-friendly neighborhoods, interconnected streets, and mixed land uses with greenway connections, parks and important civic spaces, and transportation alternatives. Not only do these features avert suburban sprawl, but they also preserve more significant open space and foster a healthier lifestyle.
Our team is eager to work with like-minded clients who aspire to create communities with long-term vitality and value.
Our team is committed to exploring and providing sustainable solutions for the built environment, whether the work is performed at a broad master plan level or for a more detailed neighborhood plan, public park design, or a residential estate.
We incorporate low-impact development techniques that lessen the effects of man's footprint on the environment. These methodologies employ careful site planning and building orientation, preserve native vegetation, reduce impervious surfaces, and utilize rain collection systems, bioswales, green roofs, and other innovative methods.
The principles expressed in the Florida-Friendly Landscape™ program have long been a part of our design approach, as they have evolved through the years from the original Xeriscape guidelines.
Urban Green Studio's primary goal is to create quality environments for human interaction. Whether we are working on a public space, a private garden, or a new community, we recognize that we are making places for people to experience and enjoy as a part of their everyday life.
We bring the best of our artistic and technical skills to create artfully composed spaces that are beautiful, comfortable, and safe. These locations are designed to engage the senses, stir the imagination, and enrich the spirit.
Our team believes that each project and client is unique and deserving of a tailored design response. While we bring an efficient production method and a certain design sensibility and consistency to our work, we continually strive to bring fresh ideas to the table. We offer our clients creative design solutions that satisfy their individual project challenges, not formulaic, rubber stamp answers.
Exceptional Client Service
The team of Urban Green Studio has extensive experience in the field, allowing us to provide large-firm professionalism and expertise with a friendly small-firm attitude. We run a low-overhead business with a highly responsive team who offers personal attention at the principal level.